Muscular Dystrophy Association Fill the Boot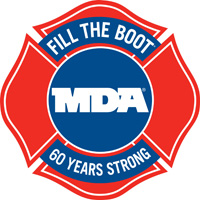 ---
The City of Fairfax Professional Firefighters and Paramedics IAFF Local 2702 proudly participates in the International Association of Fire Fighter's national campaign to support the Muscular Dystrophy Association (MDA).
The City of Fairfax IAFF L2702 joined this cause in 1979 collecting money outside a local grocery store within the City of Fairfax. Since then, we have made it a priority to improve our efforts each year and contribute as much money as possible to assist the individuals and families afflicted with Muscular Dystrophy.
In 2005, with the support of our city manager, mayor, and city council members, we took this program to the streets and began collecting within intersections during red light stoppages. This allowed us to surpass our previous efforts enormously and in 2009 the City of Fairfax IAFF L2702 collected more money than any other jurisdiction per capita.
We have continued this tradition of collection for the past 36 years and will remain dedicated to this cause until a cure is found. We would like to thank all those who have donated over the years and encourage you to continue to support this cause with us by Filling the Boot with us every August.
---
History of the MDA and IAFF
The IAFF raised $100,000 for MDA in 1955, and $1 million in 1970. Fire fighters continue to raise the bar in their fundraising efforts, with $10 million raised in 1995 and $26.2 million in 2013.
To date, the IAFF has raised nearly $530 million for MDA.

---
Donations can be made directly to the MDA by clicking the picture below.